ADVANTAGES
About
Currency EX has been developed for Business Catalyst sites that operate with international trade to allow their users to define a currency of their choice from a multi-currency list, after a user makes a choice of currency all prices specified from your site current prices will change to the user-specified currency to real-time currency rate conversions provided by the European Central Bank with daily currency rates.
How will this app help?
This app plays a huge part on the international trade experience for your clients allowing them to have a real expectancy of prices in their currency when paying for goods or services, a recent research made has proven that most users from overseas countries would enquire about their order value in their currency in order to have a real perspective of how much something would cost in their currency, if they take too much time to find how much your products and services would be they might just abandon your site, so this might have cost you advertisement and strategy time but without a key alement in your site international trade becomes a huge loss of time and money.
This app can be easily implemented on any BC hosting plan site with just a few clicks.
Currency Status and Conversion
Rates - This section provides daily rates for 32 main country currencies available from the European Central Bank on the currency base specified within the app, need a quick conversion? Use our Conversion Widget to calculate large amounts to any of the country currencies available with detailed conversion rates this widget is also available to users of your site and can be easily installed with just 2 clicks.
---
Apps Connected
If you are a user of Cart Assistant PRO you can take advantage of the extended functionality provided by the app that will make a cart experience a lot more dynamic.
---
Why Monthly Billing?
We simply can't stop making it better!

When we develop an app we like to deliver a great quality app that will do what it says and beyond, so to allow us putting greater quality into our app production a monthly subscription will cover the substantial cost to improve the app quality for you.
We make apps that were carefully elaborated for clients and partners operating with an online business using Business Catalyst so you can have outstanding benefits such as:
- On request new feature implementation, just send us your requirement we will look into it for you
- Guaranteed money return from its functionalities if properly implemented
- Technical Support, any problems? we are here to fix them!
- New cool updates, why not!
---
FEATURES
Currency Converter
Released on Monday January 29, 2018

We know its really important to have a Currency Converter in hands when needed so we built one!
Once in the app Admin you can take advantage of converting any value to any of our supported currencies to get the total currency exchange.
Do you know whats best!
If you have a foundation 6 site add it to your site so customers can make their own calculations.
---
Rates
Released on Monday January 29, 2018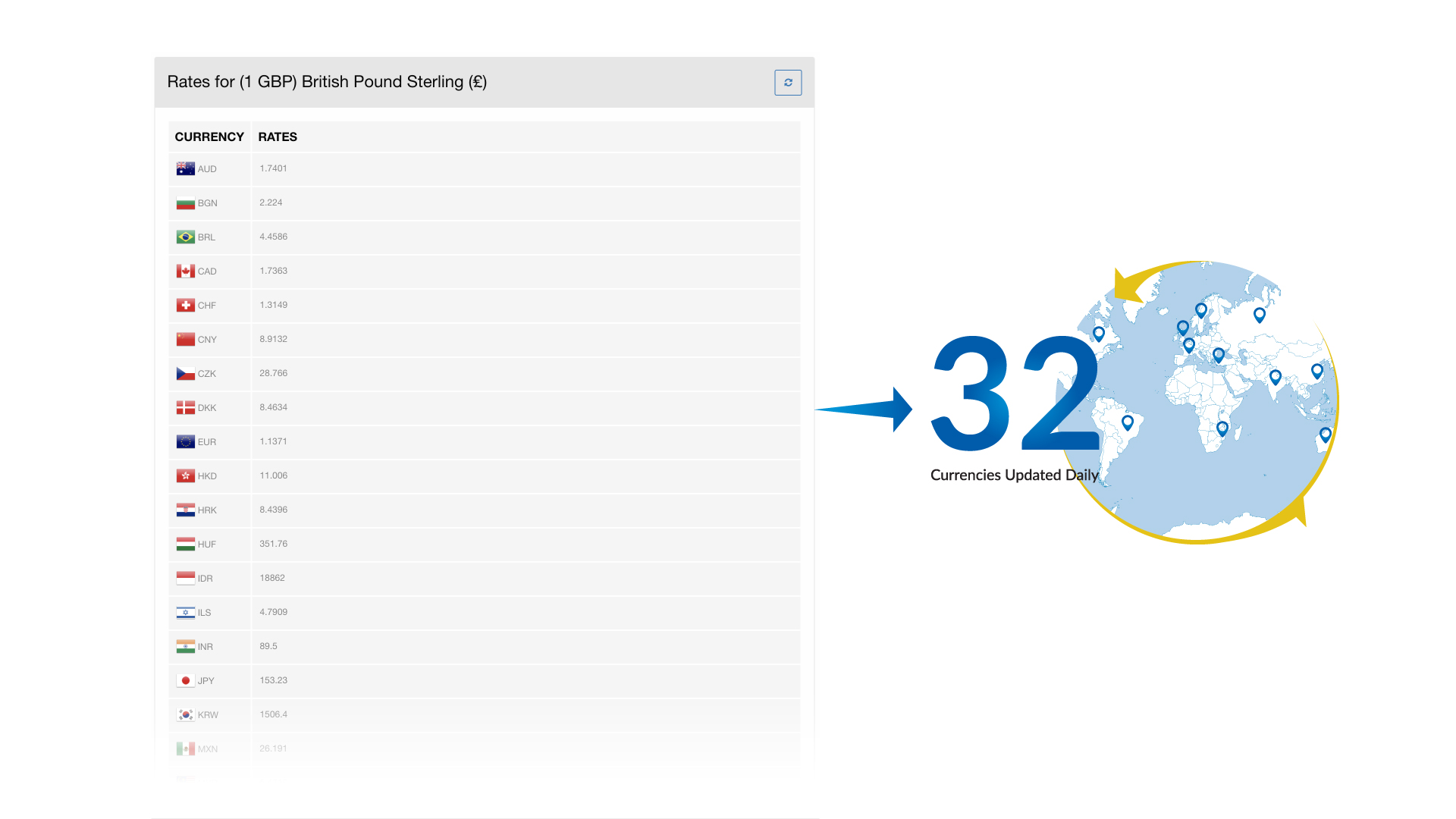 Take advantage of our reliable source of financial exchange and show prices on your site with confidence, with over 32 main currencies supported worldwide, rates are updated daily provided by the European Central Bank.
Our Admin rates monitor shows all currencies rates based on your specified based currencies giving you insights of the exchanges in international trades.
---
Website Currency Widget
Released on Monday January 29, 2018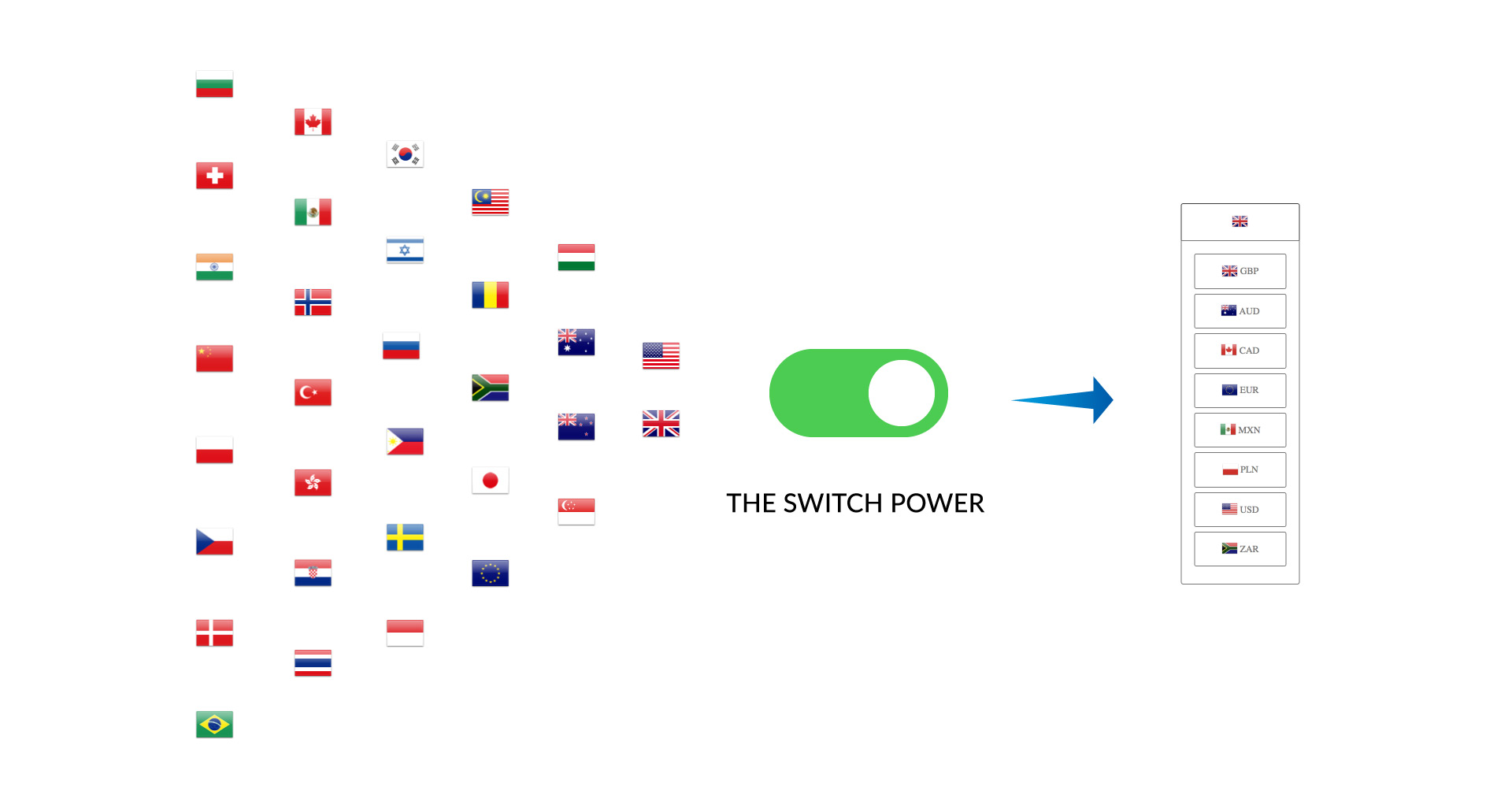 Choose from 32 world currencies to show on your website and allow your users take control of what price currency they see on your site, simple installation and simple to use this widget provides:
- Better sales experience for international customers.
- User determined currency choices.
- Reduced bounce and abandonment rates from traffic coming to your site.
- Daily updated world currencies from a reliable source.
- Product prices from your base currency to any of our supported 32 currencies.
- No expensive hosting plans required, any plan, any site will work.
- Liquid Support for countryCurrency liquid tags.
- No additional domain or products configuration!
- Control over styles and layout.

---
EXPERIENCE IT!
EXPLORE CURRENCY EX FROM ONE OF OUR CLIENTS WEB SITES
UPDATES LOG
Release 1.0

This version 1.0 comes with admin 32 country rates, converter, site drop-down with user-determined currency options.